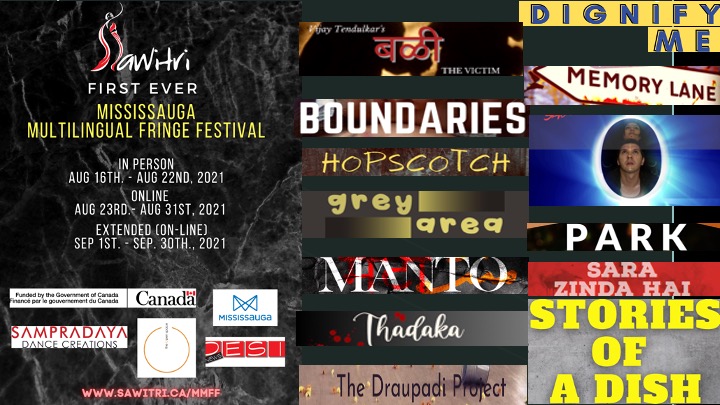 DIGITAL - Mon 23rd. Aug., 2021 - 31st. Aug, 2021
1) Dignify Me - English  / Some Urdu
"Dignify Me: An Audio Play" explores the complex, funny, and tender relationships of three Pakistani women -- two sisters and their mother -- after the matriarch of the family elects to access medical assistance in dying. As Alzheimer's disease wreaks havoc on their lives, the three must come to terms with life after death.
2) Memory Lane - English
3) O - English
O is the story of two mystic poets, Rabia of Basra & Karaikkal Ammaiyar of Tamil Nadu. Both struggled under patriarchal structures and ultimately triumphed over the very society that berated and exiled them. Coming from cultures that have been at loggerheads with each other in recent history, they fought bigotry and emphasised the primacy of the human spirit against religious bigotry. Explored by two dancer-actors, who switch roles rapidly to emphasise the shape - shifting nature of the soul that lives and evolves forever....in the continuity of O, never beginning or ending. Part 1 is Rabia Basra, while Karaikkal appears in part 2.
4) Park - Hindi
Three is a crowd even in a park.
5) Sara Zinda Hai - Hindi / English / Urdu
"Some women fear the fire, some women simply become it." Set in different eras, Sara Zinda Hai presents the unforgiving realities of two strong women who challenge the patriarchal social system. One of its kind, the story of Sara is a thought provoking yet disturbing tale that leaves the audiences with a question to introspect on themselves. Set with life's true instances of a elegiac artist, this strong and hard-hitting drama is not to be missed.
6) Stories of a Dish - English
A global pandemic may have struck, but we have a chef who's just stuck. He wants to win the world over with his cooking, but, will he able to learn how to? He's got to face isolation, earn acceptance and most importantly, get groceries delivered! Will he finds the secret recipe to happiness? A culinary theatrical journey awaits.