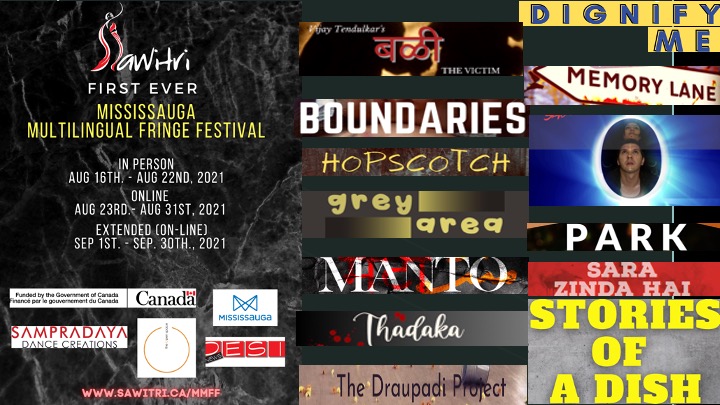 IN-PERSON
1) Bali  - Marathi
- Tue - 17 Aug, 2021 - 8 pm
- Thu - 19 Aug, 2021 - 6 pm
"Bali" the victim written by Vijay Tendulkar is a suspense one-act play.
Tendulkar's plays bring a turning point in Indian theatre as they shock the sensibility of the conventional audience by projecting the reality of life, human relationships, and existence. His plays are revolutionary in the sense that they bring about a transformation in the audience's mindset.
 ' Bali ' the word means "Victim". The play revolves around a plot of a suspected poisoning case involving a doctor and a patient couple; even though the solicitor and Police Inspectors were following the day-to-day happenings.

It's a story of love, friendship, suffering, and hope for happiness at the end of the tunnel. But no matter how much you plan or plot or expect, after all, everything is destined at the mercy of the reality of life. 
2) Boundaries / Hopscotch  - English
BOUNDARIES
Brief Synopsis:
Who do boundaries favour? Two characters, previously unknown to each other, explore the
meanings of knowledge, tradition, and objectivity.
HOPSCOTCH
Brief Synopsis: (Explicit Language)
When two sisters, Ismene and Antigone, find themselves confined together, they are forced to deal with questions of love, memory, family, and freedom.
- Mon - 16 Aug - 10 pm
- Wed - 18 Aug - 8 pm
- Fri - 20 Aug - 6 pm
- Sat - 21 Aug - 4 pm
3) Grey Area - Hinglish
The polarized thinking and guided expectations from the world we live in often molds individuals to live lives in dichotomies whether it be right and wrong, heart and brain or belief and logic.
- Mon -16 Aug - 6 pm
- Thu -19 Aug - 10 pm
- Sat - 21 Aug - 8 pm
- Sun - 22 Aug - 2 pm
4) Manto - Hindi / Punjabi / Urdu / English
Synopsis :
Stories of Manto, comprises of five stories that exposes the brutal truth of a society that was at its demonic best after the partition of India & Pakistan. Performed in English, Hindi & Punjabi, each theatrical short presents a combination of high emotion and  narratives from an author who was considered one of the most controversial writers of his time, Saadat Hassan Manto.
- Thu - 19 Aug - 8 pm
- Fri - 20 Aug - 10 pm
- Sat -21 Aug - 6 pm
- Sun - 22 Aug - 12 Noon
5) Thadaka - Malayalam
  'Thadaka' draws inspiration from the famous Malayalam poem 'Thadaka Enna Dravida Rajakumari'  by poet Vayalar Rama Varma. The play is a unique presentation of Thadaka- a fierce Dravidian princess;  and differs markedly from Valmiki's Ramayana, the oldest and most widely read version of the epic.
- Tue - 17 Aug - 6 pm
- Wed - 18 Aug - 10 pm
-  Fri - 20 Aug - 8 pm
- Sat - 21 Aug - 2 pm
6) The Draupadi Project - English / Tamil
- Mon - 16 Aug -8 pm
- Tue - 17 Aug - 10 pm
- Wed - 18 Aug - 6 pm
- Sun - 22 Aug - 4 pm